Club History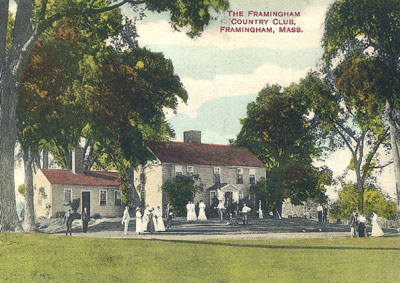 Framingham Golf Club, organized in the early 1890's, and formalized in 1898, built a clubhouse and played on its nine hole Pincushion Links until the members incorporated as Framingham Country Club in 1902, and moved to the present location at Gates Street.
The 1902 clubhouse, a historic house c1700, exists on the north side of Gates Street. The club sold that house (and two holes) in the 1950s and purchased the house of a member, E.E. Brooks, which is today's clubhouse.
The 1902 course was nine holes, 2300 yards and designed by Arthur C. Blanchard, landscape gardener. The course was lengthened againin 1908.
In the 1930s, the construction of Route 9 forced a redesign.Three holes north of the old clubhouse were reduced to two and seven holes were moved south of Gates Street. This project was supervised by Donald J. Ross, architect.
In the 1950s, another redesign, adding two holes to the west, put all nine holes together south of Gates Street, due to the sale of the clubhouse and two holes. This project was supervised by Orrin E. Smith, architect.
In 1960, the second nine holes opened south of Parker Road on land bought from member Haddon Owen with this project being supervised by William F. Mitchell, architect.
In 1968, the front nine was again changed by adding two holes farther to the west allowing two fairways to become today's practice area. Geoffrey Cornish was the architect for this project.
By the late 1960s, Framingham Country Club was what it is today with its clubhouse, the front nine with four holes out and five returning, two practice fairways, and with the second nine across Parker Road.
Today Framingham Country Club is an elite 18 hole Member Equity Country Club conveniently located off the Mass. Pike and Rte. 9 in Framingham, Massachusetts.